Bury Wedding Limousines
Exact specifications will vary between each of our stretched limousines, 4x4s and Hummers. If you have certain requirements from your vehicle please contact us directly and we will be happy to tell you more about each car. Every wedding limousine in our fleet is 100% legal and licensed for hire. There are many unlicensed chauffeur cars and limos on the road so make sure your special occasion doesn't end on a sour note - book with the professionals!
Typical features include comfortable leather seating, a clean, attractive bar area with glass ware for use by all passengers, tinted windows and divider screen for your privacy, a top of the range CD stereo with excellent speaker/base system throughout the car, TV units, DVD player and colour changing lights for a nightclub atmosphere on wheels!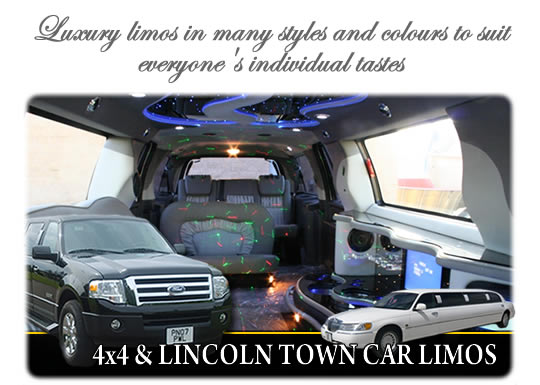 White Super Stretched Hummer Limo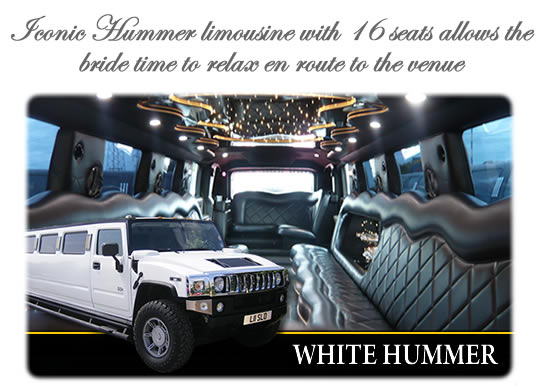 Our super sized Hummer represents the very best in limousine design and, with 16 seats available, provides very cost effective travel for larger groups of passengers. We have worked closely with VOSA on setting guidelines for safe limousine travel and our white Hummer is COIF (Certificate Of Initial Fitness) certified and legal for hire - there are many unlicensed Hummers and 4x4 limos on British roads so don't risk your safety, book with the industry's best!
Chrysler 300 Baby Bentley Limousine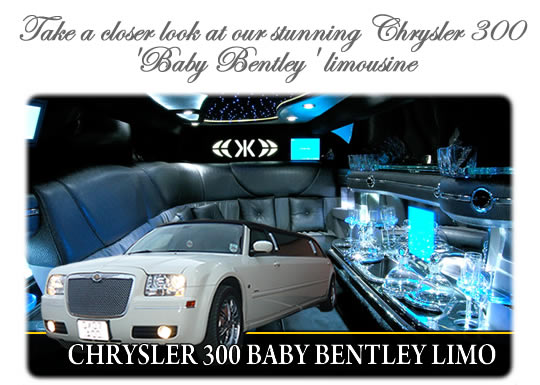 Could this be the north west's coolest limousine? We think it stands a good chance for the title! Our Chrysler 300 'Baby Bentley' limousine looks great on the inside and colourful on the inside, thanks to its neon blue light interior, two tone charcoal leather seating and amazing bar area. You'll get to enjoy a nightclub atmosphere on the road thanks to its colour changing disco lights, decorative ceiling and best in class audio system!
This is the car for you if you're planning a hen night in Bury or Manchester or are looking for an affordable and fun way for the bridesmaids to travel to and from the wedding and reception! Just ask us for more details!
4x4 Limousine Fleet List
Our 4x4 and stretched limousines include:
Chrysler 300 Baby Bentley limo in white with 8 seats
White Lincoln Town Car style limousine with 8 seats available.
Pink Lincoln Town Car style limousine with 8 seats available.
Colourful pink 4x4 licensed for 14 passengers per journey.
Silver Lincoln Navigator for 12 passengers per journey.
Black Ford 4x4 with 12 seats.
Silver Ford 4x4 with 12 seats.
White Ford 4x4 with 14 seats.
White Lincoln 4x4 with 12 seats.
With superb rates on all of our cars (including classic wedding cars and chauffeur cars) you can be sure our services will be a true asset to your special occasion. To enquire about any of our vehicles please call us on 0800 197 6579 or 01204 522 422, or fill out the wedding car enquiry form to receive a quick reply online.